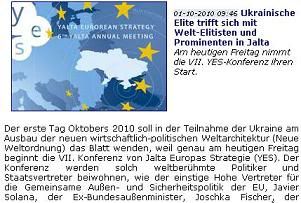 http://www.nrcu.gov.ua/index.php?id=475&listid=129592
translation from German version of Ukrain Govermental site:
01-10-2010 09:46 Ukrainian elite will be meeting with world celebrities and elitists

This Friday the Seventh Conference YES will take off.



The first day of October 2010,

should change the participation of Ukraine in the development of new economic and political world architecture (New World Order)

, because just this Friday begins the Seventh Conference of Yalta European Strategy (YES).
The conference will be attended by such world famous politicians and state representatives, such as former High Representative for Common Foreign and Security Policy,

Javier Solana

, the former Foreign Minister,

Joschka Fischer

, the EU Commissioner for Enlargement and Neighbourhood Policy,

Štefan Füle

, the ex President of Poland,

Aleksander Kwasniewski

, and the President of Ukraine,

Viktor Yanukovych

, the Russian Deputy Prime Minister

Alexei Kudrin

.
In addition, the participation of other celebrities scheduled with live-connection, so the discussion will be joined by the Seventh United Nations Secretary General

Kofi Atta Annan, Larry Summers

and many other famous bankers, journalists, experts and businessmen.
During the three-day conference they will take a look at issues such as new world order and its main players, air disturbances, fighting the current crisis and energy security issues are to be discussed.
Link