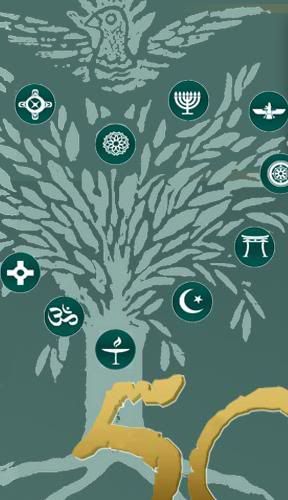 Symbol Of Interfaith Unity, last work of artist Thetis Blacker*.
"The Tree of Life bears twelve multi-colored fruit hanging from the branches. The leaves of the tree are olive leaves and symbolize peace and hope. The branches spring from the one stock, the trunk. Living sap moves through and up the boughs, as indicated by the undulating serpentine central vein. Four roots of the tree grow from the four directions of the world, while four rivers of vital water flow outward to all people of the earth. The fruits of the tree represent different faiths, each linked in harmony. Each fruit contains the seed of propagation and is surrounded by a circle of white radiance indicating the sacred nature of faith, hallowed by the ineffable. Above the tree hovers a dove, holy symbol of peace and love. It roosts in the midst of the tree, bringing divine blessing upon all in unity."
LINK
blessing upon all in unity.
Oct 19.2010 NY: A Gala Hollister Awards Dinner at 6:30 p.m. at the Pierre honoring four Juliet Hollister Honorees: Archbishop Desmond Tutu, Ecumenical Patriarch Bartholomew, HRH Prince El Hassan bin Talal and Karen Armstrong.

Which event was it?

On "October 19, the Temple of Understanding in New York City brought together sixty-six leaders of international interfaith organizations and other eminent visionaries. They were invited to form an advisory council for the Interfaith Consortium for an Ecological Civilization (ICEC), a new committee developed by the Temple of Understanding and other organizations in connection with the United Nations Environment Programme.

"The mission of ICEC is to facilitate a dialogue* among the various sectors of society on ecological civilization, gather wisdom from this dialogue that will inspire and guide individual and social transformations, and lead in the transition to ecological civilization." LINK

"The interfaith leaders will also be committing to take action both within their communities and on a global scale. To carry out their directives, a committee of five organizations called the Interfaith Consortium for an Ecological Civilization (ICEC), developed by the Temple of Understanding in connection with the United Nations Environmental Programme (UNEP), will work "to create a paradigm shift at the United Nations," Van Dyk said." LINK
occult painter Alex Grey ("Chapel of Sacred Mirrors")(right) in talk with Faith Leaders.
other attendees were:
Dr. Steven C. Rockefeller, Co-Chair, The Earth Charter International Council

Mr. Marc Scheuer, Director, Alliance of Civilizations
Mr. Dan Miner, Chair, Sierra Club, New York City Group. (Sierra Club is Solana buddy Maurice Strong)
many more names here:
http://www.templeofunderstanding.org/wwd_2010_awards-2.htm
*Thetis Blacker: "Her father's old Oxford tutor was Leonard Huxley (the father of Julian and Aldous). Among her works were the Apocalypse series (1973), which so bothered the nuns to whom it was given that for some years it was kept in drawers and dark corners, especially the shamelessly gorgeous Whore of Babylon. The series is now in St George's Chapel, Windsor, which also has her two silk batik Phoenix altar frontals". Link "Blacker's pictures were commissioned for and exhibited in cathedrals in the United Kingdom, Europe and the United States. Blacker was a close friend of the poet Kathleen Raine and became a fellow of the Temenos Academy, dedicated to "Education in the Light of the Spirit" and founded by Raine and others in 1990. Over the years Blacker produced memorable series based on mythical themes. A phoenix rising from the ashes was a favourite subject." Link
Temenos Academy: Lecturers of Temenos Academy include Hossein Elahi Ghomshei (author on Persian mysticism(Sufism)) and Z'ev ben Shimon Halevi (Warren Kenton)( founder member of the Kabbalah Society). The Academy staged a talk by the Dalai Lamaduring his visit to London in 2004.(Wikipedia) C.G. Jung relates the term temenos to spellbinding or magic circle. see also: Earth Charter and Temenos Books. "Establishing a temenos, a magical sacred circle where special rules apply and extraordinary events inevitably occur, each artist made an 8" (20.3cm)x 8" (20.3cm) x 2" (5cm) Temenos Book: a handmade book filled with pages of visual prayers/affirmations for global healing, peace, and gratitude." Link
The Prince of Wales is patron of the Academy. And he is very active here:
The Making of Harmony – the Vision of The Prince of Wales http://www.temenosacademy.org/temenos_lectures.html
http://www.princeofwales.gov.uk/newsandgallery/focus/harmony_a_new_film_and_book_by_the_prince_of_wales_1075448342.html
http://www.princeofwales.gov.uk/content/documents/Harmony%20-%20Pages%201-27.pdf
http://www.theignorantfishermen.com/2010/06/prince-and-his-green-islamo-fascist.html
http://www.scribd.com/doc/28432917/Antichrist-and-the-Green-Prince-SECOND-EDITION-Word-97
stay tuned!
farmer