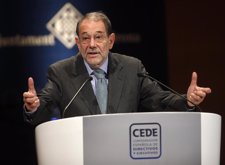 "Solana

has downplayed the weight of national sovereignty in a globalized world, which should join forces, and

called for "intervention into the sovereignty of the countries that do not respect international agreements"

on issues like climate change or the proliferation of nuclear weapo
ns"
Link
"

The man

who has been in the mix of high international diplomacy in the last two decades has

confirmed the truth of the

secret documents

published by Wikileaks U.S

.
The former secretary general of NATO and former High Representative of the European Union, Javier Solana, has said what was published "

is nothing that I do not know. That's all I knew, but now its black and white and in public.

"...
However, he regretted the publication.
"

"I'd rather wished it had not happened."
At a conference in Girona in the Third Meeting of the Spanish Confederation of Directors and Executives (CEDE), he warned that it will produce two effects: a change in traditional diplomacy, it will be more difficult to work with the messengers, and the custody of documents, because "this has not been hackerism, but someone has made copies and published them."
Link