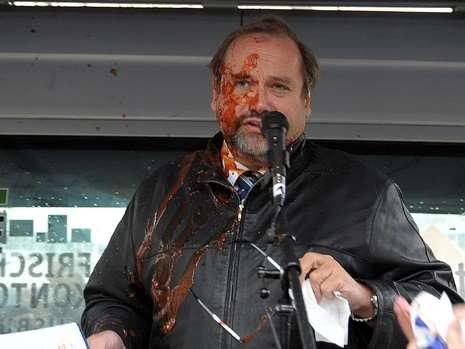 Ketchup attack,
today
2010 November 10 on A.Sauerland, Loveparade-killings-city mayor,
Link
,
Link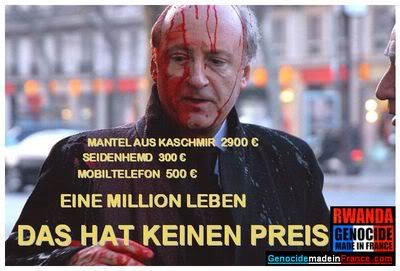 2007 November 28, Group« Génocide made in France » attacks Hubert Védrine with bloodred colour.Link
"also today: November 10, 2010 15:23 AM
On the initiative of former French foreign minister

Hubert Védrine

, former vice chairman of the EU (and eminent person of
Alliance of Civilizations
LINK), Chris Patten (former UK Foreign+Quartett for Peace), a network formed, "

European Eminent Persons Group (EPG)

.
EPG will meet November 11 to 12 in London to

discuss possible ways for the Middle East peace process

.
thhe meeting is attended by the Swedish party leader Mona Sahlin, Vedrine and Patten, also Mary Robinson, Lionel Jospin, Roman Prodi,
Javier Solana

, and Salam Fayyad, prime minister of the Palestinian Authority, and Others
Place: Mandarin Hotel Hyde Park, 66 Knightsbridge, London
Date: November 11 to 12,
Link
The U.S./Middle East Project was established in 1994 by the Council on Foreign Relations (CFR) under the direction of Henry Siegman, a senior fellow on the Middle East at the Council. In 2006, the U.S./Middle East Project became an independent policy institute. Its mission is to provide non partisan analysis of the Middle East peace process and to present policymakers in the United States, in the region and in the larger international community with balanced policy analysis and policy options to prevent conflict and promote stability, democracy, modernization and economic development throughout the region. Link
"European Statesmen Support a US Peace Initiative in the Middle East
In this statement, European statesmen endorse the initiative of a group of American senior former officials, and call for parallel efforts in Europe to support President Obama in his new policy towards the Middle East and his approach to reach a peace agreement between Israelis and Palestinians President Obama is setting forth on an entirely new path in the Middle East with great courage. He has broken with the previous policies and is engaging in an effort to build for the future. His address in Cairo testifies to this...
We think, as does the American group, that the Israelis and Palestinians are not in a position to restart the peace process by themselves. In the current context, the United States, and the President himself, have a unique responsibility to initiate a process for a settlement based on principles already agreed by Israelis and Palestinians.
The US group is correct in stressing the need for a two state solution based on the lines of June 4, 1967.
As for Jerusalem, the city would be home to both capitals.
Finally, a multinational force would be deployed to ensure a peaceful transitional security period. This coalition peacekeeping structure, under United Nations mandate, would include American leadership of a NATO force supplemented by Jordanians, Egyptians and others.
We firmly endorse the parameters proposed by the American Eminent Persons Group and look forward to advancing European initiatives consonant with the spirit and vision of our American counterparts.
President Obama's address in Cairo was a defining speech, inspired and sincere, likely to convince all those who had lost hope of seeing the Middle East live in peace one day. It is clear to us that Europe should help him in every way it can to pursue his efforts in spite of the inevitable obstacles that will emerge.
Signatories:
Alain Juppé, Chris Patten, Clare Short, Erkki Tuomioja, Helmut Schmidt, Hubert Védrine, Jorge
Sampaïo (AOC), Lena Hjelm-Wallén, Lionel Jospin, Louis Michel, Mary Robinson, Massimo d'Alema,
Michel Rocard, Richard von Weiszäcker, Romano Prodi, Simone Veil, Vaira Vike-Freiberga,
Teresa Patrício Gouveia, Jean François-Poncet, Felipe Gonzalez, Giuliano Amato and Peter
Sutherland
* The ten authors of the US report "A Last Chance for a Two-State Israel-Palestine Agreement"
are Brent Scowcroft, Zbigniew Brzezinski, Chuck Hagel, Lee H. Hamilton, Carla Hills, Nancy
Kassebaum-Baker, Thomas R. Pickering, Theodore C. Sorensen, Paul A. Volcker, and James D.
Wolfensohn."
The full text can be accessed on the US-Middle East Project website www.usmep.us LINK
http://www.usmep.us/usmep/wp-content/uploads/2009-06-29-european-eminent-persons-group-statement-web.pdf
stay tuned!
farmer