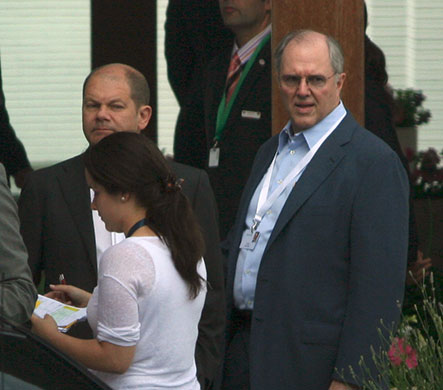 Scholz at Bilderberger conference 2010 (left)
Landslide victory of Scholz, German news write about "
Erdrutsch(landslide) loss
" of opponent part
LINK
,
Süddeutsche Zeitung writes:
Selten ist es in der Geschichte der Bundesrepublik an einem Ort zu solchen tektonischen Verschiebungen der politischen Landschaft gekommen wie bei der Wahl in Hamburg. - Olaf Scholz steht vor einem Härtetest."
"Rarely
in the history
of
the Federal
Republic
it happened that at one
place
such
tectonic
shifts in
the
political
landscape
occured

as

the election

in

Hamburg

...
Olaf Scholz faces a tough test..."
LINK (...tough like in silicium, firestone?)
Now isn't this interesting? In November 2009 a widely unknown local politican becomes vice party chief of the German party SPD. Then in 2010 he,
Olaf Scholz
,
attended the Bilderberg meeting
and this was a clear sign for his coming rise to power. In the night on 31. October 2010 (also
reformation day
) a
large crater was opening in the German town Schmalkalden
("landslide")(which also refers to a Protestant
revolution
of some
county rulers
in Germany, including Hamburg 500 years earlier,
Link
) and at the same evening, news broadcasted also a widely seen interview with this
Olaf Scholz at the funeral
of former German Channcelar Helmut Schmidt (I watched it some 100 meters away from Luthers Wartburg and just a few miles from the crater), On another channel they showed
Hamburg comedian Mike Krüger who had helped in building the Elbtunnel in Hamburg singing ("Wer baggert so spät am Baggerloch"/ "Who's drilling so late at the drillingwhole"). I
n the train home my neighbour passenger paints a skull and writes nearby "drilling thanks no". I look up and the next poster (from Wildlifefund) says: "Born to die out") (which ressembles the German word for "Drilling"="Bohren"). (see also' Scholzium'/Silicium SiO2/flint stone in, Dutch
"vuursteen"/sounds like German "Fürst"/prince/county leader, chrystal skulls ("sc(h)olc"), at same evening TV Programm "who wants to be a millionaire" last decisive question was about 'SiO2 - Quarz or Salt?', Scholz also meaning mayor)
Nov 1st was also the day Merkel Party voted a new Party leader for county NRW (Norbert Röttger)(2 weeks later also vice party chief of CDU) that altogether already then I felt compelled to take as another sign that this is more likely about Olaf Scholz and waited (and please excuse my wild association journey here).
Yesterday, he won a landslide victory against the (since 10 years) ruling Merkel Party in Hamburg, which counts like an own state in Germany.
"The centre-left Social Democrats (SPD) on Sunday regained power in Hamburg in a landslide election victory crushing Chancellor Angela Merkel's conservatives.
The SPD won around 50 percent of the vote in the northern German city-state, compared with just 20 percent for Merkel's Christian Democrats (CDU), exit polls on public television showed."That's a very, very impressive result," said the SPD's mayoral candidate Olaf Scholz." LINK

Let's see what we will see next from this man.
stay tuned!
farmer