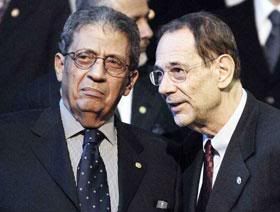 Javier Solana has just joined Human Rights Watch's board of directors, Human Rights Watch said today. Link
"Javier Solana has been convinced that authoritarian regimes have an expiration date: "They end up giving in, although it's unusual to do so in an orderly manner...
The former secretary general of NATO said that we should not forget that "Mubarak has been a good ally of the West for a long time," and that this desire for stability of the international community did not take into account the wishes of the country's population "Now people, now people in crisis, suffering economically and suffer political consequences. The change must go the right way . "
Solana also pointed out that the fall of Mubarak is crucial for a reason: "As a country of 80 million (...), because what will happen in Egypt throughout the region and, therefore, will affect the peace process in the Middle East. " Link (with audio file)
"...It's no coincidence that AlBaradei showed up in Cairo only two days after the uprising began and was immediately named a negotiator by the Muslim Brotherhood. In fact, he had been waiting in the wings for quite awhile.

He's on the board of an organization headed by George Soros and Zbigniew Brzezinski called International Crisis Group. Brzezinski is the same man who supervised the fall of the Shah of Iran in 1979. Another board member of the ICC is one Javier Solana. Solana is one of the most powerful figures in the European Union. Because of his Marxist sympathies and his support for the regime of Cuba's Fidel Castro, Solana was once on the USA's subversive list. Former U.S. National Security Advisor Sandy Berger, who once smuggled incriminating documents out of the Clinton White House by hiding them in his clothing is another Board Member, as is General Wesley Clark, once fired from his NATO command. Monamed AlBaradei also sits on the ICC's Board... LINK
from: "Egypt Victim of Conspiracy: Obama and the Shadow Socialist Group Behind Egypt's Fall", Article by Michael Savage and Greg Lewis
Also there is popping up Amr Moussa (AoC Player and Arab League Secretary General) for president now.Link
And the EU? German newspaper Märkische Allgemeine writes:
"I do not hear the voice of Europe", commplaint MEP Markus Ferber about the British and thereby reflected a widespread sentiment. "Ashton has to build pressure and make publicly expressed that the whole of the EU in their names is behind the Egyptian people", called Ferber. Two months after the launch of the new European External Action Service the foreign policy of the EU stands for the first time, as if it had been hit by a historic moment by surprise. Not a few summit participants remembered therefore Ashton's predecessor, Javier Solana. He would also without a mandate have flewn from the top just to Cairo and would have teached Mubarak a lesson, they said. (ByDetlef Drewes) Link
stay tuned!
farmer