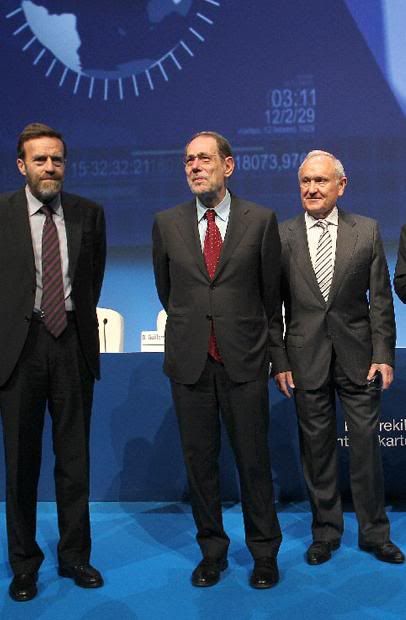 Clinton: US to lay out new Mideast policy in weeks*** White House blocks upcoming Quartet meeting (Friday April 15 in Berlin)
http://www.jpost.com/DiplomacyAndPolitics/Article.aspx?id=216379
Quote:"US secretary of state suggests Israeli-Palestinian peace plan will be central in Washington\'s new push; says US\'s core interests include Arab-Israeli peace; White House blocks upcoming Quartet meeting."
...
The president will be speaking in greater detail about America\'s policy in the Middle East and North Africa in the coming weeks,\" Clinton said at the US-Islamic World Forum, a gathering sponsored by Qatar and the Brookings Institution, a Washington think tank.
Meanwhile, the Obama administration blocked a British, French and German initiative to propose outlines for a final settlement at the Quartet meeting scheduled to take place at the end of the week, the Associated Press reported on Tuesday. The White House, however, pressed the other Quartet members to instead delay the meeting. One US official told the AP, "It wasn't the right time."


3 powers blocked in the former forum of Solana to make peace in the Middle East.(now Lady Asthon sitting at his place). Instead the Brookings plan is strengthened. As we know Dr. Javier Solana is a distinguished senior fellow in Foreign Policy at Brookings.
http://www.brookings.edu/experts/solanaj.aspx

Thanks Peter for your hints!
...meanwhile also:
"On economy, global and local, also turned the business meeting that traditionally organizes Elkargi coinciding with its Annual General Meeting and during which the president of the Center for Economics and Global Geopolitics ESADE, Javier Solana, the president of the Foundation IESE, Juan José Toribio, the president of BBK, Mario Fernandez, head of the Observatory and the European Central Bank in Madrid, Guillermo de la Dehesa are present.
Solana called for changes "profound" to tackle the "big waste of human resources" that occurs in Spain. In his lecture, also he hailed the EU, because it is "cool" that different countries are able to "hand over sovereignty to a superior being." It should be a model analyzed in other world regions, as is being done in Southeast Asia, he said." LINK
also this week in Spain: "Former High Representative for Common Foreign and Security Policy of the EU, Javier Solana, has suggested the creation of an Executive National Security Council, according to the Cadena Ser The body, similar to countries like France or the UK, depend on the Prime Minister and would aim to "undertake an integrated and permanent security." LINK
stay tuned!
farmer