today elcomercio.es writes:

"There is no biblical date, or a prophecy of Nostradamus, do not even have to do with the Mayan calendar and its predictions, which have made Xel (Yucatan) 500 Italians have built a bunker city to resist the end of the world .

No. It is more certain, closer to that date and working heads of state and government officials and secretaries, hotel owners, bartenders, hostesses and even gardeners.

This is the date on which the European Union will meet to make decisions that will be critical to European and perhaps world.

On December 9, 2011, in Brussels, this meeting will take place, maybe as historic as they were at the time of the European Coal and Steel Community in 1951, the very creation of the EU or the creation of the Eurozone on January 1, 1999.

With a Europe without solving their problems of governance, fiscal management group and its European Central Bank ineffective (being benevolent), Europe and all its member countries face a possible second phase of this historic recession.

But the needs have accelerated the time, the crisis has made markets turn national states and, to the power of powers like the U.S., China, Japan and Brazil, the main euro countries face two positions: on the one hand, which defends the EU itself, ie the integracción and creation of Eurobonds and on the other and as compensation, the defending Germany and France, ie the formation of a three-speed Europe.

The Germano-French concept, the European countries would first car, according to them, have fulfilled their obligations: Germany, France, Holland, Finland, Austria, Belgium and Luxembourg

,to

which should be added

,

said Javier Solana,

Italy

(the third largest economy in Europe)

following the recent meeting of Merkel, Sarkozy and Monti

.

The second would be Greece, Portugal, Ireland, Cyprus, Slovakia, Slovenia, Estonia and Malta.

And in the third countries, including Britain, Sweden and eight more members of the European Union but maintain their own currencies.

The question is: what about Spain?

Exactly that is our problem.

Faced with negative growth, a looming recession, 21% of unemployed and the OECD, which provides that in 2012 and 2013 unemployment will continue to grow despite maintaining a deficit of 62% below the European average, Spain faces this serious challenge without a strong structure or industry or agriculture.

These circumstances make Rajoy will have to take draconian measures to meet the deficit set Europe.

And they have to advertise when you take possession, on 21 December.

Today, the bet is that Spain, Europe's fourth largest economy, is integrated into the first car.

That is to me the importance of 9 of 12 of 11.

It will be very serious for all does not reach an agreement on that date." Link


"ExpoCadena already preparing its edition of 2012
December 7, 2011
Ehlis Group is already preparing the twelfth edition of the fair's business private shopping center and a new Congress to its partners and suppliers to the group.
So far already confirmed the participation of 222 suppliers of the group. A total of 330 exhibiting brands will meet the coming days 9 and March 10 to celebrate the XII edition of the private business fair 88 and Habitacle Chain, exhibitors figure similar to that achieved in previous editions. Pending confirmation of attendance close its partners hope to exceed 90% attendance of the same.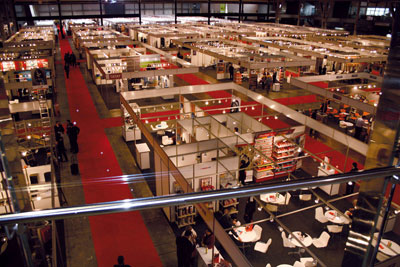 The exhibitors will occupy Hall 2 of Fira de Barcelona located in the facilities of the Gran Via exhibition center The pavilion has an area of ​​31,000 square meters and allows all participating companies share the same showroom.
Seizing the opportunity offered to unite ExpoCadena partners and suppliers of the group and, after the success of last year's Madrid, Ehlis organizes a new Congress. On this occasion, three high-level speakers will provide a strategic vision for their respective professional areas: Javier Solana will speak on economics and geopolitics, Risto Mejide, on communication and branding, and Alex Rovira, who will present a reflection on 'good luck '." Link