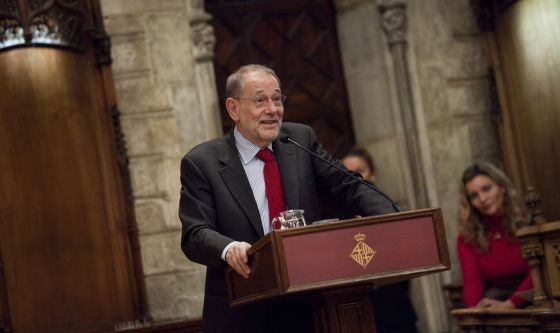 The Catalan publishers bridges rewarding Javier Solana
The industry gives the former Minister and former leader the Atlantis 2012 European
It was not explicitly sought, but the choice of politician Javier Solana
yesterday as Atlantis 2012 prize awarded by the Publishers' Association of Catalonia
gave a tacit message both timely and bridging sectors, as well as to the Ebro as to the
Pyrenees. "His experience in the cultural world is endorsement enough,
but also as an international figure who has looked inward and outward in that
sense, it is appropriate," explained yesterday the president of the editors,
Xavier Mallafré, aware of the tensions generated sovereigntist debate in
Catalan society and in the world of books translated into statements of
Metro Group President, Jose Manuel Lara, to take their business outside
Catalonia in case of a hypothetical independence of Spain.
In the framework of the Edició Nit 27 (the Feast of Catalan publishers) that the crisis
left yesterday afternoon snack in the Salo de Cent of the Barcelona City Council with
about 150 people from the world of books and culture, is Mallafré commissioned
to give the current brush, for example, also without mentarlo slipstream and the controversy that drives educational reform minister Wert, giving data on multilingualism in Catalonia
(about 180 languages spoken):
"Language is the source of wealth and division of society ", dropped before the deputy
director of El País, Lluís Bassets, took care of glossing figure Solana,
"the most internationally known Spanish, a great traveler and just off a plane
he asks,
'What are you reading?'. Or asking an editor that makes you get a
novelty before it's in bookstores. "
Solana's extensive curriculum (Madrid, 1946(??)), which led him to be Secretary General
of NATO, the Council High Representative for Foreign and Security Policy of the
European Union and Commander of EUFOR, preferred to stress Bassets his six years as
Minister of Culture (1982-1986), stage in which legendary editor appointed as CEO
Jaime Salinas Book: "Never has had a policy of the book as it was then," summarized the journalist.
Solana, the unique personality of Castilian culture basically recognized the award in its
history with Jose Manuel Blecua last year, was excited, "believe it or not," he said. It was
true: he betrayed the evocation of his paternal grandfather Ezekiel, editor and creator of a
Quixote for children, and the mother's side, which also featured an editorial on economic
issues. "I was born with ink-stained fingers and knowing what is a Cicero [measure
to calculate interlineations]," he joked. But he also showed that he knew what was Europe,
with its readings, starting with The Radetzky March, a book that showed how the Austro-Hungarian Empire collapsed. From Joseph Roth also cited The Capuchin Crypt, shared
reading with his friend Juan Benet. The result of this book, Solana visited the imperial
tomb in Vienna, where the Habsburgs are buried
a modest basement of the church
of the Capuchins, if after visiting El Escorial bags of many history lessons and
the austerity and grandeur; but I will not decide ", he launched sly.
Citing Ariel Sharon, who walked two Jewish books: The world of yesterday, Zweig,
"I rejected, he said, be an European writer" and another of Isaiah Berlin, who
"always kept" - and inevitable Danube by Claudio Magris and a bridge over
the Drina by Ivo Andric, came to an entry "not happy" of Elias Canetti's diaries.
In them, there is a place on a site where Canetti centroeuropa detected in a conversation
that sought distances between towns and people.
"I thought, after reading it,
I decided to build my life nearby, to build", this despite being at a time when
"we live longer but less accurate" and that "we travel more but rather
bringing us memories than
photographs".
."
Link