retired old gentleman? - Javier Solana is the latest of 13 directors of a British spy company...since

November 2010

!
Hakluyt and Company is not your everyday think tanks, it was founded by two senior former members of the Secret Intelligence Service (SIS) named Christopher James who's job at six was to lease with the top UK firms (he may also have been SAS before to joining six) and Mike Reynolds who created the counter-terrorism branch of the SIS and then worked with MI5's Middle East desk and both of whom set up the company 1995 working out of an office in Mayfair. Its role according to James is to provide private business with the kind of intelligence usually only accessed by Government by utilising its unique set of contacts to create intelligence reports. It boasts that this information is not available off the net or through the media and it only deals with the business and government elite.

Hakluyt itself is very media shy for a company whose clients include almost one quarter of the FTSC 100 companies and it's no wonder, it is in effect the intelligence service of the corporate elite and the founders have created a mega-intelligence company that few know off. Not only does it draw form the vast number of ex-SIS officers but also members of big business and ex-government officials. James stepped down and managing director in 2006 and was replaced by ex-MI6 officer Keith Craig. However other members of Hakluyt's "international advisory board" however include former US presidential candidate Bill Bradley, a former Foreign Minister for Australia, Sir David Manning former Ambassador to the United States and Javier Solana a former Sectary General of NATO to name but a few members of what makes up this truly international corporate intelligence service that is augmented with former members of MI6."
read the whole chinese assassin story here: Link
JAVIER SOLANA - GRAPH
The Holdingham International Advisory Board
| | |
| --- | --- |
| 16 Jul 2012 | The Hakluyt International Advisory Board |
| 22 Jan 2004 | The Hakluyt Foundation |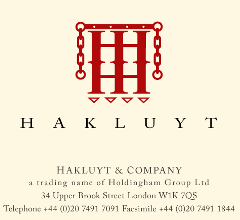 Hakluyt & Company Limited is a
British private intelligence agency, "...staffed almost entirely by ex-intelligence [services] staff"
, according to a 2006 report in
The Times
.
[1]
"In joining Mayfair-based Hakluyt, Sir John follows in the footsteps of his Rolls-Royce predecessor, Sir Ralph Robins, who sits on Hakluyt's advisory board, as well as diplomats including Sir David Manning, who was Tony Blair's principal foreign affairs adviser in the lead-up to the invasion of Iraq.
Past advisory board members also include Sir Fitzroy Maclean, on whom Ian Fleming is said to have modelled James Bond." Link
http://www.cdrex.com/javier-solana/1342370.html
"Hakluyt, which also operates as the "Hakluyt Foundation,
" is part of a pattern established by MI-6 in the 1960s, when several "consultancies" – e.g.
Diversified Corporate Services
,
operating out of Rome, London, and New York – were set up as, essentially, fronts.
As one source
describes
the spookish origins of Hakluyt:
"Set up in 1995 by the late Sir Fitzroy MacLean, with a board that includes a former Royal Dutch Shell managing director and a former BP deputy chair, the Hakluyt Foundation provides leading British businesses with information that clients 'will not receive by the usual government, media and commercial routes'. Hakluyt's managing director, Christopher James, was until 1998 in charge of MI6′s liaison with commerce, while a fellow-director, Mike Reynolds, was regarded as one of the Service's brightest stars."
Heywood's affiliation with Hakluyt
, with its top drawer political and
corporate connections
– including links to British oil and
mining
interests – is
a strong indication there's more to his death than is at first apparent. This is an outfit that sports Javier Solana
, former EU foreign minister and NATO secretary-general..."
LINK
btw. also is
Solana listed as Director
of the
European Council for Foreign Relations here
:
DR JAVIER SOLANA - GRAPH
stay tuned!
farmer